Mick's Pest Control Brisbane: Your Local and Certified Pest Controller
Brisbane is among Australia's fastest-growing cities. It is Australia's third-largest city, with a population of over 2.2 million. The humid subtropical climate and dense population deliver ideal breeding criteria for pests such as termites, rats, mosquitoes, mites, as well as other creepy pests. Mick's Pest Control in Brisbane QLD is a proficient pest control company with professionals and exterminators who provide a wide range of 24/7 pest control and inspection services for your protection and safety against pests. Our pest removal team is available 24 hours a day, 7 days a week to take your calls. We believe in using safe and quality treatments to eliminate the large percentage of Brisbane's pests and insects.
Insects and Pests grow in Brisbane's warm climate and therefore can nest almost anywhere. We offer a comprehensive Brisbane pest control service. Further, we complete a detailed inspection and build a control program based on your house's necessities. We not only manage existing nesting during pest treatment service, but we also make sure to enclose all holes, gaps, and crevasses that are the entrance points of pests.
Mick's A Name of Your Trust, Pest Control Champion For 20 Years
Our best pest control Brisbane team is made up of experts who are fully skilled, qualified, and licensed holding (Certificate IV in Urban Pest Management). We use non-poisonous materials and agents that are safe for your wellbeing, your house, and your family members. The eco pest control team has skilled inspectors who really can look for all kinds of notorious pests in your home.
We can become the ideal choice for you if you're looking for affordable and effective pest control and treatment in Brisbane. We are effective, quick, and specific to the pest problem. In addition, you can get pest management and prevention advice to help you avoid future outbreaks. For the past 20 years, we have provided rapid answers to Brisbane customers. So, if reliability is the first thing on your pest control professional checklist then we are the ones to call.
We Protect You 365 Days With Our Organic and Natural Pest Control Methods
We value excellent customer service, hence why we make certain that our organic and natural pest control products are both environmentally and client-friendly. Our biodegradable products have a low level of toxicity and are fully secure to use around kids, people with allergies, pregnant women, pets, and even plants. Our specialized pest control chemicals are sourced from companies that follow all health department regulations, posing no risk to humans, pets, or plants. The toxicity level is low, but the effectiveness is high. Moreover, our organic and natural pest control Brisbane services are available at the same reasonable prices.
End Of Lease Pest Control: If the lease of your property is about to expire and you still are searching for a reliable pest control expert then you are at the right place. We also offer end-of-lease pest control services at affordable rates. Get in touch with us today!
Pre-purchase Pest Control: If you are a person who prioritizes your health then a pre-purchase pest control service is a great idea for you. It is best to invest in something that has no flaw. Our exceptional Brisbane pest control team will take good care of your new purchase by eliminating all the pests.
Domestic Pest Control: Keeping your loved ones safe is the primary objective of every person. If you do not want any unnecessary sick days then a routine domestic pest control service is the way to go. Moreover, our pest control Brisbane prices will be within your budget. Reach out to us now for a free quote.
Mick's Pest Control Services
Mick's Pest Control is the right company from where you can get a variety of treatments for various pests. Our pest control team plans the treatment and services after looking at the condition of the property. It means the quality of our same-day pest control Brisbane will be high and suitable for your property. We are widely famous for being the most efficient yet affordable pest control company in Brisbane. Here are different pests that our emergency exterminator control and remove from your property:
Affordable Pest Treatment Services That Can Make You Happy!
The cost of pest control Brisbane western suburbs services is the most asked question. As well as a concern for businesses and homes while enlisting expert help to control a pest issue from their place. Well, you can freely count on us for cheap pest control Brisbane services. When quoting you for a particular spider pest control, rat pest control, termite pest control, or any other pest treatment, we take your budget into consideration & ask accordingly. So, you can freely share your pest type, size of nesting, and property with us and we'll quickly share a service estimate with you. We want you to reach us for the most affordable way to get a pest-free residence in Brisbane.
Residential Pest Control Service
Our professional pest inspectors are well aware of all the hiding points of pests in your place and can arrange effective pest treatments. Our home pest control service stays in trend due to its durable, safe, and long-lasting results. Whether you want pest control spiders, or need pest inspection of a pre-buy property, call us today. We have been using green and eco-friendly pesticide sprays and solutions. So, let us perform an on-site inspection at your property today!
Commercial Pest Management and Service
We treat all kinds of common pest problems that most Businesses in Brisbane face. Different areas like- manufacturing industries (food) need a specific treatment to avoid pest problems. Brisbane has a high amount of manufacturing firms that rely on us for effective, convenient, and reliable pest control treatments. We know birds are a great nuisance to most workspaces, and therefore, we are here to give you the best bird proofing and netting service. Call us for more.
Termite Control Service in Brisbane
Pest control Brisbane offers different types of termite control services in Brisbane. We make use of baits, repellents, non-repellents, and wood treatments. Our updated techniques and tools help you get control of termites immediately. Also, our treatments are odourless mostly and do not disturb your peace in any way. Moreover, we suggest you call us for a timber termite prevention service. We place barriers on wooden items that restrict termites entirely. So, without waiting any more, reach out to us for Brisbane's best termite treatment and prevention service.
24 by 7 Emergency Pest Inspection Treatments Available Brisbane-Wide
Overrun by cockroaches, ants, or termites? Do you want immediate control of pests in your Brisbane home/workplace? If so, call us for a 24-by-7 emergency pest control service. We want you to call us whenever you spot any pest damage or emergency. Pest issues are serious and need a full investigation and treatment of the whole house.
Our pest control specialists stay equipped and prepared to respond to your emergency calls. In addition to this, our customer care staff is also active around the call to listen to your needs. Moreover, our pest controllers are certified and have a wealth of expertise to eliminate any pest issue of yours. By emergency pest control assistance, it does not mean we charge much. Rather our emergency and same-day pest treatments are given at very nominal prices.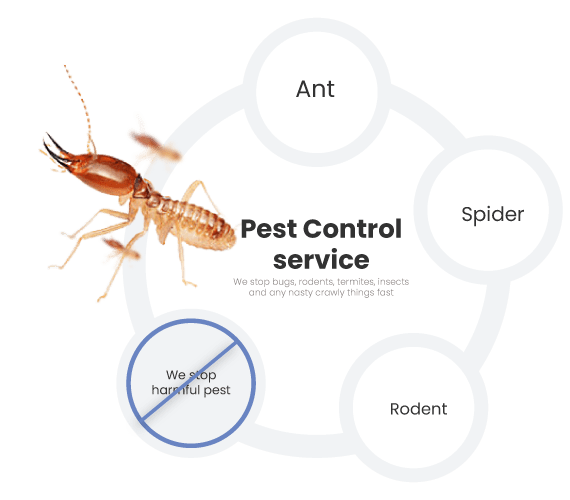 Why Mick's Reasons To Count Us?
Mick's Pest Control, our skilled pest and insect removal group offers a variety of pest treatment services. We have a terrific and dedicated team that can take care of your pest issue the very same day you contact us. Our knowledgeable group is well-known across Brisbane for delivering timely and efficient pest inspection and control solutions. Besides these, there are a lot of benefits that you can enjoy if you pick us for pest control services in Brisbane. Here are some of those advantages that you will find helpful in many ways.
Our Pest treatment Brisbane services are available in a variety of options.

We offer quick responses to get rid of active pests.

We get our job done with Products that are suitable for use in the presence of children and pets.

In Brisbane, we are licensed for pest control solutions.

Pest controllers with a lot of experience and who know what they're doing.

Honesty, friendliness, and dependability.

24 hours Timely Service: We arrive on time!

Quotes are provided without charge.
Top Rated For Pest Inspection, Treatment, and Removal
We are the top-rated pest control experts and we provide our services in each and every area of your property including the outdoors of your house. Rooftop, backyard, kitchen, garden, bathroom, basement, etc. Moreover, our thorough pest inspection services are available at pocket-friendly prices. Furthermore, after the inspection, we give you a report of the current situation of the infestation and also tell you about the pest control methods that will work well to get rid of the pests. Only one call from you can resolve all your pest problems in no time. So, ping us now.
Get Instant Building and Pest Inspection
Just as it is important for the building to be safe, in the same way, it is necessary to protect the goods kept in your house from pests. That's why we are always available for you, the entire team of Mick's Pest Control protects you from pests like your family member. Apart from indoor pests, we also provide affordable outdoor pest services including building pest inspection and urgent weekend pest control for you.
Effective Protection Against Pests: Fumigation Services in Brisbane
We have all the services available for you that can make your life easy and pest-free, Fumigation Services is also one of them. We are very effective against pests with the Fumigation technique for all the residential and commercial properties, and this is not what we are saying but the entire Brisbane is saying, the Mick's Pest Control team is there for you to solve your pest problems happily Call us and see the difference.
Mick's Pest Control Accessible in Brisbane and Surrounding Suburbs
If there are any kinds of pests or insects, we are only a short distance away to help you keep them at bay. We Have The Best, Skilled, And Licensed Professionals For Pest Control Who Are The Experts To Solve Your Issues From The Root. No matter what your location, in Brisbane we are available for services within 1 hour, which makes us a more reliable and trusted team. Our company serves the majority of Brisbane's neighborhoods, including:
Brisbane North
Brisbane South
Ipswich
North Lakes
Gold Coast
Springwood
Pelican Waters
Rodents, cockroaches, termites, house inspections, mosquito sprayings, spiders, fumigation, sanitizing, and removals are included in our pest management solutions.
Pest Control Infections in Brisbane Rats, Mouse, Cockroach and Solutions
No need to worry about pest control infections in Brisbane rodents and cockroaches, when you have Mick's Pest Control by your side, you can have a sigh of relief. We are the best pest control experts because we make sure to satisfy our clients by completely vanishing all kinds of pests from their property. We have all the pest control solutions that you need. Rodents as well as cockroaches have been infesting the properties of Brisbane a lot lately. Both these pests can contaminate your house with terribly dangerous bacteria. Moreover, some of these bacteria and viruses can even cost you your life. So, make sure to beware of these pests by hiring us for routine pest control services.
We Love Making Your Property Termite-free, Call Micks Drive Away The Pests
We know that termites can not only cause you a lot of problems but they can also cost you a lot of money if you do not control them in time. This is why we offer exceptional termite inspection, treatment, and control services to keep your valuables items safe including your wooden sofa, beds, dining table set, TV Stands, wardrobe, bookshelves, chairs, and tables that need strong termite protection which is our expertise. Moreover, we are available to control termites on an emergency basis at no extra cost as well. You can check our termite pest removal Brisbane reviews to know the credibility of our services. We love making your property free from these terrible creatures.
Frequently Asked Questions
All forms of pests, such as bees, cockroaches, spiders, rats, mosquitoes, and others, that are causing you problems are covered and guaranteed to be removed.
Clients can make reservations for services both online and offline for any area in Brisbane.
Yes, we also provide services outside of Brisbane. You can call us to discuss your problem and the location of the property. We have our bases throughout Australia.
The pest exterminator charges based on the need of the client. The factors responsible for the change in the prices are types of pests, area of the treatment, treatment required, number of service times, infestation level, and more. The minimum call-out charges are $180 and each service has its own price. Depending on these factors, you may have to pay between $300 to $1000.
Yes, it is worth getting pest control services because DIYs can not match the professional pest control results. You can compare professional pest control in any term(method, pesticides, safety, money), and you will find it better.
If you never want to face pests then you can fix spray for your house for pests every three months in a normal condition. However, depending upon the type of property and common pests in the region, you may have to increase the number of sprays for your house for pests.